Jennifer DeWall RDN, LD, CSSD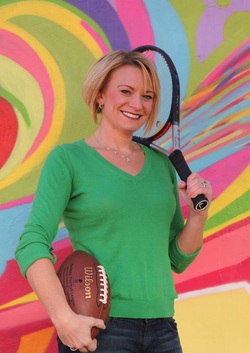 Nutrition in Motion, LLC. is owned and operated by Jennifer DeWall. Jennifer is a registered and licensed dietitian nutritionist with board certifications in sports dietetics and intrinsic coaching.
Jennifer has been a dietitian for over 15 years. She started her professional career with Hy-Vee, Inc.
as a wellness counselor for their corporate employee wellness program. Jennifer coached thousands of employees on weight loss, lowering blood pressure, lowering blood sugar and improving cholesterol through healthful eating. After her corporate position, Jennifer branched out into the community and became one of Hy-Vee's first in-store dietitians. She worked directly with shoppers and the community in all aspects of nutrition, food and cooking.
In 2007, Jennifer and her husband moved to Sydney Australia where she expanded her sports nutrition career and consulted with a variety of
recreational and competitive athletes of which included members of the Bondi Beach Lifeguard Rescue.
In 2009, Jennifer joined the Iowa Department of Public Health and served as the Health Care Coordinator for Iowans Fit For Life in the Bureau of Nutrition and Health Promotion. She focused on pediatric obesity prevention and created a web based tool for physicians, pediatric patients and their families called "Eat & Play the 5-2-1-Way."
In addition to nutrition, Jennifer also has a background in fitness and sports. Jennifer has taught tri-level fitness classes, instructed water fitness programs and been a certified personal trainer through the National Strength and Conditioning Association. She is active in sports and has participated in competitive volleyball, basketball, tennis and softball. Jennifer continues to play tennis and participate in road races and team triathlons.
Today, Jennifer is a busy professional with her own family. Time management is key when it comes to healthy eating. A combination of Jennifer's love for food, athletics and working with people makes Nutrition in Motion and Transform 30 a daily joy. Despite her busy schedule, athletics still remains a huge enjoyment. Jennifer enjoys being a spectator for almost all sports, especially college football and enjoys biking, running and other outdoor activities. Jennifer and her husband Matt reside near Van Meter, Iowa where they have two children.
Past Work
- Community Health Consultant, Iowa Department of Public Health, Bureau Nutrition and Health Promotion
- Registered Dietitian, Hy-Vee Inc, Cedar Rapids
- Corporate Dietitian, Hy-Vee Inc.
- Director & Certified Personal Trainer, ReTHINK Program, Body & Balance Gym and Day Spa
- Fitness Instructor - YMCA of Greater Des Moines
Cr
edentials
B.S. Dietetics, Iowa State University, 2001
Dietetic Internship Program, Iowa State University, 2001
Registered Dietitian/Nutritionist, American Academy of Nutrition and Dietetics, 2002
Licensed Dietitian, State of Iowa, 2002
Certified Specialist Sports Dietetics,Commission on Dietetics Registration, 2007
Certified Intrinsic Coach, Totally Coached, 2011